Contact us today for affordable professional moving services in Michigan and beyond. We are fully licensed and insured. 
Packing Services In Detroit, MI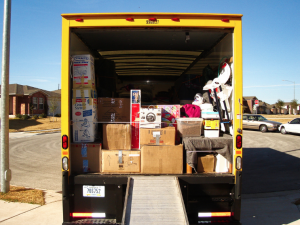 Are you moving and need help with packing? Let experts like us save you the hassle.
The work of packing and unpacking is a cumbersome job. If you are doing it yourself, you need to plan a week before moving day. You need to budget for packing supplies, look for old newspapers, and  search for bags.
Why put yourself through it? Come to us, and we will arrange for the boxes, tape and other packing items.
Our employees are well-trained professionals in packing services. We use all the needed packing resources and proper moving boxes. Don't get overwhelmed with your packing, trust pros with your valuables and get things done efficiently.
Call us today for a moving and packing estimate.
Professional moving company packing and unpacking solutions
We offer trusted packing and unpacking services for residential, commercial, office, local, and long-distance relocation jobs.
We pack fragile items in a padded box, valuable home furnishing and clothes in a wardrobe, and kitchen dishes in sturdy corrugated boxes. We have customized packing materials to meet your needs and keep your prized belongings safe from damage.
Our professional movers pack each piece and every furniture with paramount consideration. Bigger furniture is dissasembled and every part securely packed. Upon arrival at the new place, every part is reassembled correctly.
Our company is licensed in Detroit and insured to offer moving service in the United States of America. We understand accidents happen and that's why we are liable for everything we pack.
We are here to save time and get you moving to a stress-free packing process. We want to make your moving date less hectic and hassle-free. Whether it's packing or unpacking, small or big items, our employees are up to the task.
Partial packing and supplies options in eastern Michigan
Maybe you feel the cost of packing and moving is beyond your budget. However, we offer partial packing help if you don't want the full packing service. This is how it works. We pack specific valuable things like lamps and décor, art and antique pieces, and other fragile items.
If you are looking to pack yourself, contact us for affordable packing supplies. We offer boxes, stretch wrap, packing tape, and other customized boxes for the right packing prior to your move.
Contact us today to learn more about our many affordable relocation and packing service options in Detroit and eastern Michigan.