Contact us today for affordable professional moving services in Michigan and beyond. We are fully licensed and insured. 
Hot Tub Movers in Detroit, MI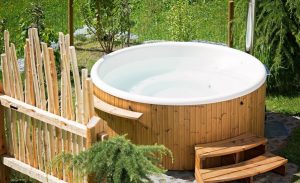 Want to move your hot tub? Contact us. We are among the few Detroit moving companies that specialize in hot tub moving.
We pay attention to all nitty-gritty details and take care of your equipment. Our services are reliable, and our experience is unmatched.
Our professional team will be happy to relocate and safeguard your spa. Contact us today for a free and accurate quote.
Relocation service for spas and hot tubs
One dilemma folks who are moving often face is to whether to take the hot tub with them. On one side, you have put a lot of money and time into your spa. On the other hand, it can be a major job to haul this heavy appliance locally or long-distance.
Let our experts handle the heavy lifting. In addition to hot tub relocation we gladly move spas from one location to another on your property.
A hot tub needs to be hauled with caution and care. Our movers are knowledgeable and have the equipment to handle the weight. We ably maneuver narrow spaces and provide proper installation at your new dwelling.
Free estimates and quotes
The cost of our services is determined by your hot tub and the moving distance, as well as needed additional services like disposing of an old one or installing a new one. We are ready for any job, big or small.
Tub placement and set up
Placing a tub is not an easy job. Our movers safely and securing transport and place your hot tub at your desired location.
Removal services
If you feel running a spa is an expense you can't maintain, or that your hot tub is not functioning well and want to replace it with a new one, we can assist you with proper disposal.
Pre-move assessment
For a smooth hot tub moving, a move consultant visits your location for an assessment This is to review and identify critical information about your tub. The consultant will check on the model, possible obstruction, current condition, and valuation, and assess the equipment needed. He/she will also advise on draining and review your move date.