Contact us today for affordable professional moving services in Michigan and beyond. We are fully licensed and insured. 
Furniture Movers in Detroit, MI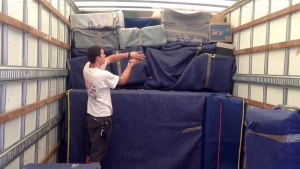 Have you ever tried to move a huge sectional sofa on your or with one of your buddies? It probably wasn't very fun.
After all, moving large items is never a fun time. It hurts your back. It's frustrating. You don't want to it again.
Next time, count on our furniture movers in Detroit. We deliver exceptional residential and commercial furniture moving services throughout the eastern Michigan region and beyond.
Our movers are experienced and trained to carefully move and transports all types of furniture. Rest easy, because they have also passed required background checks.
Whether you're bringing furniture home from the store, moving a piece within your home, or taking it to storage, we got the muscles, manpower and knowledge to assist you.
Call now for a free and accurate moving estimate.
Moving couches, sofas, desks and more
Moving furniture successfully requires strength and the ability to maneuver tight spaces nimbly. It also requires modern equipment and precautionary measures to keep the furniture – as well as walls and doorways – protected from damage.
We safely, carefully and promptly move the following pieces of furniture:
Couches
Sectionals
Sofas
Tables and chairs
Recliners
Beds and bed sets
Bed frames
Book cases
Desks
Hutches
Cabinets
We also move commercial business and office furniture, such as conference tables, filing cabinets, and more.
Detroit relocation services
We are a fully licensed and insured moving company in Detroit that offers local and long-distance moving and relocation services.
In addition to lifting and transporting furniture, we move home appliances, pianos, pool tables, safes, computer hardware and technology, and much more.
We offer many moving services, including packing and unpacking, loading and unloading, delivery, planning, and logistics. Call us today for a free quote and exceptional moving help in eastern Michigan that is affordable.