Contact us today for affordable professional moving services in Michigan and beyond. We are fully licensed and insured. 
Employee Relocation in Detroit, MI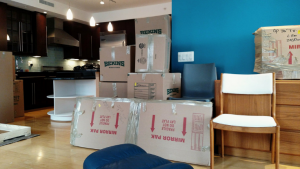 Employee relocation can somewhat can be a challenging transition for all involved. Just like any other form of moving, it can be altogether stressful and exciting.
Hire a dependable moving company in the Detroit area will ensure a smooth, simple, speedy, and seamless relocation process.
We have experienced relocation specialist waiting to serve you. Our services are friendly and affordable, and are tailor-made to give you peace of mind during your long-distance move to a new job and new life.
Contact us today for a no-obligation moving quote and affordable relocation solutions for employees and their loved ones.
About our long-distance employee moving process
Relocation is moving from one place to settle to another. Our movers are here to help you transition easily, safe and fast. Our services include an internal process that takes into account your family transfer, pets, vehicles, and household items.
When you contact us concerning your relocation plans, we assign you a move manager who will help with the planning. He/she will advise on the packing, storage transit program and any other relocation aspect. Our dedicated team offers you a comprehensive service that fits your needs and budget.
We have reliable partners across the USA and parts of Canada. We provide a single point of communication that will handle all your scheduling details. With us, you won't be overwhelmed with all paperwork and procedure, but instead, you will be confident of a successful relocation.
Moving services for relocation to a new job
Moving to a new town for work? We offer the following personalized services to help with smooth residential relocation:
Packing and unpacking
Loading and unloading
Truck delivery
Long or short term storage
Moves to and from storage
We are happy to assist with your entire move or step in and when you need us most – liking moving furniture, appliances, and other heavy items.
Affordable Michigan Movers
We are a licensed entity that is insured to provide moving services. Our vans and trucks will move your household items with ease from state to state and into Canada at low-cost rates.
If necessary, we work closely with your human resource department for scheduling and payment purposes. We assure employees of a seamless move and on-time arrival, and we'll pack and move what they need.
Our company understands the cultural shock that faces the moving employee. We help employees and their families settle easily. We'll do our best to make you feel comfortable and find it easy to settle.  
Call us today to learn more about our Detroit Moving Company and to get your free and accurate estimate.